liula
In case you missed it, this week saw the launch of my latest pattern, Liula. A beautiful, long, leaf patterned stole/wrap that uses a gradient yarn cake to it's best advantage.
If you watched my latest podcast, you will know some of the back story to how Liula came into being but I thought it would be nice to share some of the more technical details with you here and now because some of you have asked and because it's quite a good tale. Somehow the combination of stitches, hook and yarn melded together for this project magically, it almost felt effortless to create. From start to finish this pattern flowed off my hook and I'm not even kidding about that, it was a lovely experience.
From the first time I saw a gradient yarn cake, and they are hard to miss at the moment, right?, I thought they would be perfect as a really long scarf and as my thinking progressed I realised that to show off the gradient cake to its fullest, you would need something wide enough to allow each colour of the gradient a chance to shine.
the stitch pattern
After that initial inspiration, I started swatching stitch designs with something lacy and light on my mind. I tried a few vintage patterns and a few new ones, but nothing took my fancy. Then one day I was looking at leaf designs for a completely different project and I found the vintage leaf stitch pattern that would go on to be used for Liula.
I like carrying on the traditions of vintage stitch patterns, and if you are a regular viewer of my podcast you will know that I'm obsessed with vintage stitch dictionaries, books and magazines. It feels like we are keeping crochet alive for future hookers, re-using stitch designs for a new generation, I like the vibe of that concept. I modified the stitch pattern to fit in with my design idea making it wider (more pattern repeats) and adding a three treble edging to either side to give the stole more structure and a straighter edge.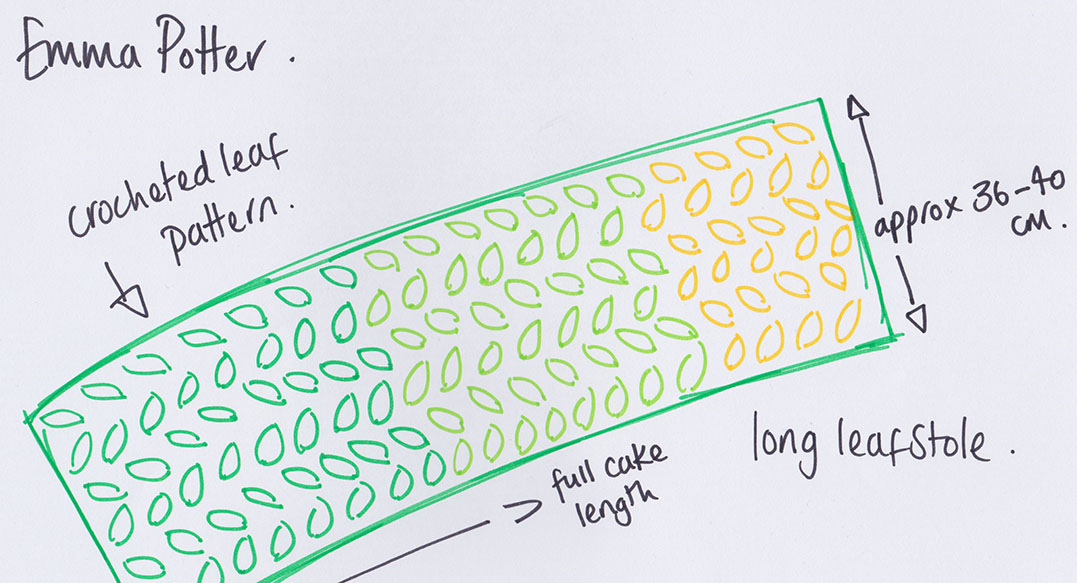 the yarn
I had been talking to Cottonflowers Yarn on Etsy for a while because they were the first company I found who had a really (really!) wide range of cake colours and I wanted to use a yarn that would give other makers lots of choice.
As you can see from my first sketch, I was originally going to make my sample Liula in green. But when the colours came through from Cotton Flowers (I asked for green, red and brown), the coffee colourway (480A) really called my name more so, and much to my surprise, than the other colours.
I chose 3ply because I wanted something drapey and light. I also tried a number of different hook sizes to achieve the exact fabric consistency I was looking for. I knew it needed to look loose and unstructured and after a bit of testing, the 4mm hook worked out perfectly.
Once the real work, the enjoyable bit, started on the pattern, the going was pretty easy. I faffed around with different edgings quite a bit, not sure if I wanted something more showy than a plain three treble edge, but I find the simplest option often works the best and it gave the stole a nice, well-defined shape.
testing and the pattern
It didn't take too long to hook even though I had a holiday in the middle of it (I didn't take it with me for fear of losing it!). Once I got back from holiday I was confident enough to give some yarn cakes to my friends and ask them to test the pattern for me. This ironed out all the final pattern anomalies and proved that the pattern worked (phew). This meant that I was able to write the pattern up knowing that it worked well, and also convert it to US terminology in confidence.
I don't give a gauge for Liula because I don't think it's necessary. It isn't a fitted garment and I want to give people the freedom to hook at whatever tension they like knowing that it won't make a difference. The stole is supposed to look unstructured and slubby and for that reason I don't block Liula although I do suggest that if you want a neater finish you can of course block away to your heart's content.
I also suggest you make it just as long as you like, I originally thought I would use the whole cake but when I got 85% of the way through it became apparent that it would be too long to wear if I carried on any further and I think it's nice for you to be able to choose what length works best for you.
the name
The name Liula comes from a Ray Lamontagne song called Narrow Escape from his Trouble album (only the best album in the world in my opinion). In Narrow Escape, two characters called Lejos and Mary, lay dazed in Liula. I have no idea what Liula is; a place, a drug, a state of mind, but I've always thought it was a pretty name and I was pleased to finally design something worthy of the name (yes I've been saving it).
I call Liula a stole rather than a shawl because the definition of a stole is a long scarf or shawl worn loosely over the shoulders. It also refers to an ecclesiastical garment that is worn loosely across the shoulders and hangs down to the knees. This is the exact way I envisaged Liula being worn, it feels right for this garment and even though the word stole doesn't trip off my lips like shawl or scarf does, it somehow works.
the CAL
To celebrate the launch of this pattern I'm running a crochet along (CAL) from 1 September - 31 October 2017. If you want to take part then all the details and a discount code for 50% off the price of this pattern can be found here. You can join in the chatter on Ravelry, ask questions and discuss colour choices (I don't envy you, there are 201 gradients to choose from) and I will pop into that group from time to time to see what you are all up to. I would love you to take part, I can't wait to see your Liula.
Happy hooking yo!